Here is another voice emphasising that Italy's decision to block a vaccine shipment to Australia will not throw our vaccination program out of whack.
But this time it's not a federal government minister, but Victoria's deputy chief health officer prof Allen Cheng.
He told Melbourne radio station 3AW that he wasn't concerned (while he was waiting for a jab of his own).
"We have more vaccine than our capacity to deliver it at the moment," he said.
Cheng says the blocked shipment "just reinforces just how lucky we are to have local production" of the vaccine.
Home affairs minister Peter Dutton also says Italy's move to block an export of vaccine to Australia will not impact the vaccination program.
Health minister Greg Hunt made similar comments earlier.
"This 250,000-dose issue is not going to affect the rollout," Dutton told the Nine Network on Friday, AAP reported.
Deputy Labor leader Richard Marles welcomed the government's confidence the program would not be affected.
"We are far from leading the world in terms of vaccinating our population, but it's good news to hear from Peter this won't stall the rollout," he told Nine.
Dutton stressed there was no problem as he urged people to speak to their doctors to see when they could be vaccinated, saying:



We need to get to herd immunity that way we can get our borders open and get back to normal life.
The Australian Medical Association's Chris Moy said the government's decision to lock in local manufacturing would protect against "vaccine nationalism".
"It may have a slight delay because the first 3 or 4 million were destined to come from overseas," he told Nine.
Updated

No new Covid-19 cases recorded in Victoria
Updated

Australia's first jab of the Oxford/AstraZeneca vaccine administered
Australia's first jab of the Oxford/AstraZeneca vaccine has been administered in Murray Bridge.
Updated

The Biloela family has been detained for three years today.
There have been some entertaining discussions at Guardian Australia this week regarding cryptoart, culminating in this piece published this morning.
Updated

The New Zealand tsunami warning has been reissued, after we earlier reported it had been withdrawn. The warning is here and our updated story is here.
The national emergency management agency is expecting coastal flooding across a huge part of the country.
Updated

Greg Hunt says blocked shipment of AstraZeneca vaccine won't affect distribution plan
Health minister Greg Hunt has had something to say about Italy blocking the export of 250,000 doses of the Oxford/AstraZeneca vaccine to Australia.
And he's making it sound like it's not a big deal.



This is one shipment from one country.

This shipment was not factored into our distribution plan for coming weeks. Domestic production starts with one million per week of deliveries from late March and is on track.
Updated

Tasmania is on the verge of becoming the third state to legalise euthanasia.
The Australian Associated Press report that late last night, voluntary assisted dying legislation passed the state's lower house.
Members voted 16-6 in favour of the bill late on Thursday night after lengthy debate throughout the week.
To become law, the bill must be given a second green light by the upper house, where it was introduced and passed unanimously late last year.
Premier Peter Gutwein was among a handful of Liberals to support the bill in a conscience vote, which allowed all MPs to vote along personal preferences.
All nine Labor members voted for the legislation as did both Greens MPs.
It is the fourth time proposed euthanasia laws have come before Tasmania's parliament.
Similar laws exist in Western Australia and Victoria.
Gutwein, who has voted against voluntary assisted dying in the past, said it had become "easier to say yes than no" as the debate progressed over the years.
Labor leader Rebecca White said it was a proud day for the state, while Greens leader Cassy O'Connor said it was a step to making Tasmania a kinder and more compassionate place.
A court will decide on Friday whether a landmark ruling that found a pharmaceutical giant concealed the true extent of complications of damaging medical devices will stand, the AAP reports.
A federal court judge in 2019 found Johnson & Johnson Group firms acted negligently and concealed the true extent of complications from the pelvic implants.
Hundreds of the synthetic implants eroded, extruded or caused infection without warning – leaving women in chronic pain and with damage to surrounding organs.
But Johnson & Johnson appealed the judgment, saying it had numerous legal errors, including a reversal of the onus of proof.
The full court of the federal court is due to hand down its decision on Friday morning.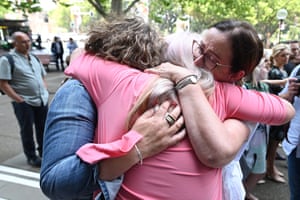 Justice Anna Katzmann in 2019 found the "Instructions for Use" handed to surgeons minimised harm and exaggerated the benefits of the devices. Her judgment ran 1,500 pages after an eight-month trial examining three patients' experiences, 48 witnesses and more than 164,000 pages of written evidence.
But Johnson & Johnson said the court failed to hear from the three patients' surgeons.
The information brochures about the pelvic implants weren't the be-all-and-end-all of warnings and a finding that product brochures were deficient – leading surgeons astray – was also wrong, a lawyer for the manufacturers told the appeal court.
The class action over the implants was launched in 2012 and has been joined by more than 1,350 Australian women.
Pending the appeal judgment, the three lead litigants were awarded a total of $2.6 million in damages – paving the way for full payout in the hundreds of millions, should the primary judgment stand.
Updated

Morning all, it's Friday 5 March. Here is what is making news today:
Italy has blocked the export of 250,000 doses of the Oxford/AstraZeneca vaccine to Australia in the first such intervention under the EU's controversial export authorisation scheme – alarming those concerned that the EU is moving towards a protectionist approach to vaccine supply.
The intervention, questions about the vaccination program and the broader pandemic response will be discussed when prime minister Scott Morrison meets state and territory leaders at national cabinet today.
As new data suggests local attitudes to the vaccine may fall along political lines, the medicines regulator has said a full-page advertisement signed by Clive Palmer in The Australian yesterday questioning Covid-19 vaccination "contains factual inaccuracies".

Morrison faces a growing clamour for an independent investigation into the contested rape allegation against Christian Porter, as the attorney general acknowledged he may have had contact with his accuser after 1988. A panel of influential women used their Q+A appearance last night to add to the calls – and decried a misogynistic culture in parliament, in light of reports that defence minister Linda Reynolds referred to alleged rape victim Brittany Higgins as a "lying cow" (in comments unrelated to the alleged rape). Higgins has demanded an apology from Reynolds, who did not deny the comments.
Australia has called on Myanmar's security forces to cease the violent response to protests, condemning the killings of minors as "indefensible" – but stopped short of outlining any additional sanctions against military figures, even as 38 people were killed on the deadliest day since last month's coup.
And a severe 7.2-magnitude earthquake struck off the east of New Zealand's North Island this morning, prompting a tsunami warning that was later withdrawn – although residents have been asked to stay alert and keep away from beaches and marine areas.
Australia news live: national cabinet to meet as Italy blocks 250,000 doses of Covid vaccine